This is one thing I won't miss, poorly planned 1/2 ass bullshit events thrown together at the last minute that the fans are blamed for not attending. We take so much shit from other fans, other cities, media, and even our owners. Being a Thrashers fan is not easy. You get no respect, from anyone!


The Zone 790 is a local sports radio station. When the Thrashers arrived in Atlanta, they were their "official station." It was later changed to 680 the Fan. I don't listen to either station as I am lucky enough to have Sirius/XM where I can listen to real hockey talk. From what I've read and heard, the Thrashers, the fans and hockey in general were rarely ever talked about on the station and when they were, they were butt of a joke. Local sports stations don't like to talk about anything but baseball and football, with a bit of basket ball tossed in. If the caller isn't calling to ask "How bout them dawgs" they don't get through. (I'd love to see some charts on how many rabid college football fans ever attended their favorite school...or any college). ANYWAY....


Wednesday, The Fail 790 begin promoting a wake for the Thrashers. Stats, a restaurant downtown, said they'd throw in free lunch for folks in Thrashers gear. Sweet! There would be a coffin, hearse and everything. I'm picture a coffin filled with memorabilia, tickets, programs, etc and free lunch. Problem? It's on a week day in the middle of the day. So let me get this straight, you are having the event on a Friday at 11:00? 90% of us have to work! I know in Winnipeg when they said "hockey" 11ty billion people flooded the streets, but that's Canada. You could probably sue for religious persecution if they didn't let you go.


All this felt like was fans being made the butt of another joke from 790 and this time, we'd be in the media for all to laugh at. When people complained on the event on facebook, they got attitude from 790, and of course trolls, like we need any, had to jump in.




With friends like these, who needs enemies?






I was bummed I couldn't go. I have a new job I need to keep. Yeah, I know how we Atlanta fans don't care about hockey. It's evidenced by the way I managed to scrimp and save and buy 2 years of season tickets while I was laid off.
<br>
So pictures start coming out of this debacle and holy shit.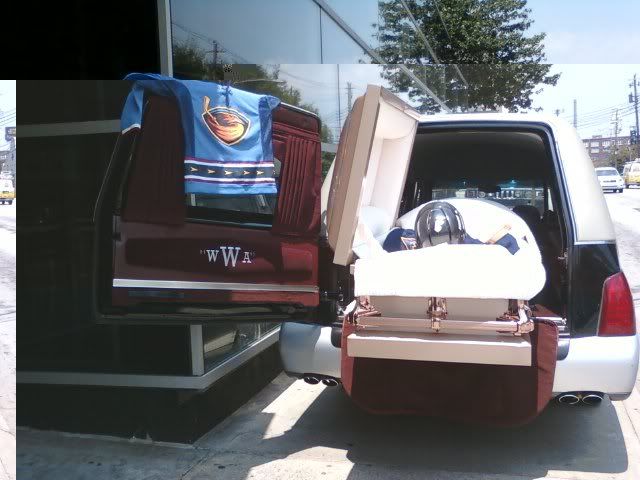 Oh yes, that is what you think. It's a casket...with a replica player...going in a hearse.


This is what was in the casket.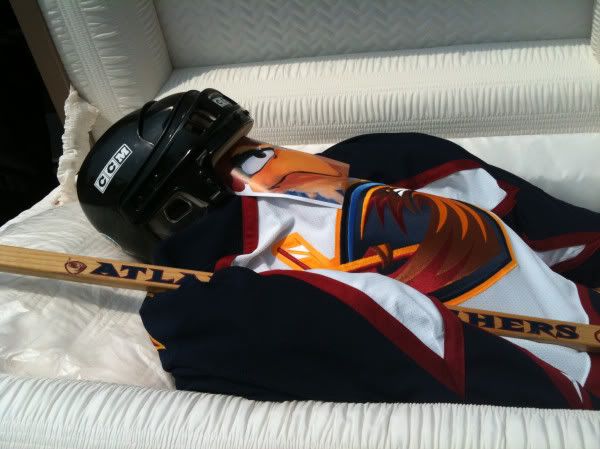 Apparently they asked Thrash to actually lay in the casket. Classy bird that he is, he said hell no.


So let me get this straight...you throw together a last minute event at an inopportune time, you ridicule those that point out the inconvenience of it, then you have a hockey player in a coffin going into a hearse with the history of this team (Dan Snyder)??? Unbelievable.

You can see more pictures of this shit here:
http://www.790thezone.com/PhotoPages/Photos.aspx?AlbumID=114819