In July when the NHL schedule came out I furiously looked at all the games coming to Atlanta. SWEET! Dallas is coming and I get to see Marty Turco. I also looked at Nashville's schedule. Nashville is only 4 hours away and we frequently go up for games. I really wanted to go up for Halloween because they have a big party and costume contest. Imagine my delight when I saw who they were playing on Halloween...DALLAS! I get to see Marty Turco twice.




So yes, I had been planning to come to Nashville for three months to see Marty Turco. It's all I talked about for days. I got my tickets about a week ago. Assuming Turco is going to be there is a safe assumption. There are some things you have pretty good odds with. You see the Flames, Kipper will be there. You see the Devils, Marty Brodeur is going to be there (except last year). Turco played 74 games last season and 68 games the season before. It's a safe bet he will be there. Well he wasn't there. Not "he didn't play." He wasn't fucking there. Like not in the building. He was scratched. "Flu like symptoms." Had I known this, I would still have gone, I had the tickets already. I just wouldn't have been surprised and devastated.




So I recreated last season's hockey player costume, just with my Preds jersey.






Me and David outside of the arena. I'm still all smiles and good times because I think I am hours away from getting a glimpse of Turco.






How awesome is this costume??? It's a Lego-wand (as in David Legwand). This chick spent like 30 hours making this costume. It rocked my and the judges asses off. She won first place. I did not even go to the costume contest because I had to hurry to the glass to get a good spot to see (say it with me) MARTY TURCO. I did make it on Preds TV though.






So we hauled ass down to the glass so I can get a good spot. Finally! It's time for the guys to come out. I see the pads coming, I'm so excited...the pads are white. That's not Turco. I turned to my husband and said "Auld is playing." Players come out and players come out and some goalie that is NOT Turco either comes out. I'm stunned.


"What do you mean Turco isn't out there?"






So I'm devastated. I felt like I got punched in the stomach and someone stole my puppy. I didn't even take pictures for like 5 minutes (a BIG deal for me). I had boo-boo face. Total emo. Cue up some Panic at the Disco and Hawthorne Heights.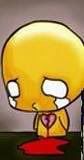 I was stunned. I eventually started taking pictures.


Not-Turco warming up.






I has a happy! One of the other things I was excited about was seeing Mike Ribeiro.






Skrastins: Woo. The chick that looks like she got her ass kicked is pretty upset about something.
Grossman: I hear she came from Atlanta to see Turco.
Skrastins: Ouch, that sucks for her. She looks so sad!
Grossman: I hear she likes Ribeiro, too.
Skrastins: Get him over here.






You called? Look at me zoom around! Forget about Turco.






Ribeiro distracting me from my lack of Turco.






Not-Turco-Either leaving the crease.






For Mrs. Conduct, some Neal.
Don't worry pumpkin, it's just paint. I'm not really beat-up.






He IS a cutie.






The Captain is no slouch either. Brenden Morrow is a cutie.






Sorry Robidas, you are a little funny looking. You do get props for playing after a broken jaw and you might get the award for "largest protective gear not worn by a goalie."






Not-Turco-Either in the net.






I know Pekka, you are always there for me. I always come to Nashville to take pictures of other people and you still put on a show for me. Love you, Pekka!






Not-Turco-Either making a....blah who cares.






One last Ribeiero shot.






So I was still pretty boo-boo faced for the first two periods. A funnel cake helped a little. Then I found out there was no TooToo either so I couldn't use my TooToo train whistle. The seats were a little more "on the moon" than I anticipated. Cue up some Fall Out Boy.


Opening face off.






I didn't get the shot but the puck popped right up on Not-Turco's net and was sitting there for a second.






Wilson in the face off for Nashville. He was the only one of their babies in prospect camp that made the team.






In Nashville if the Predators score 5 goals, you get a Frostie at Wendy's. This chick dressed as a Frostie. Genius. It reminded me of home in Mobile when you would get a small order of fries from Wendy's if the Mystics scored on a power play. This guy would dress as an order of french fries and run around the arena.






Some discussions.






Not-Turco making a save on Legwand.






The Ice Dancers doing a horrible dance to "Witchy Woman." I usually like their performances, but this one was awful.






I didn't like the band either. I usually do. Maybe if they had played some songs by AFI I would have felt better.






Okay, Gnash dressed as Michael Jackson did cheer me up.






Second Period


Not-Turco making a save.






My boy, Ribeiro, taking a face off.






Not-Turco making another good save. Marty would have done it better.






Preds score!






Pekka tracking the puck.






A dramatic save.






More discussions.






Ha-ha, Not-Turco! Preds scored! Marty would have totally had that.






Pekka trackking the puckk.






Not-Turco doing his Marty impersonation and doing some puck handling.






Chaos in front of Pekka.






Preds win!






Borrowing a page from the Rangers and the Blackhawks, the Preds salute the fans.






Gnash dressed as Michael Jackson on a 4-wheeler, how can you not love it.



I didn't lose the boo boo face until the third period. The third period was super exciting and Not-Turco and Pekka made some amazing saves.




Get better Marty! I see that Not-Turco-Either got sent back down, so I'm assuming Marty is back on the roster. You'd better have your ass in Phillips Arena on December 17.